New Members
Welcome to our vibrant and inclusive community band. We are pleased to invite musicians of all ages and skill levels to join us in creating beautiful music and fostering a sense of camaraderie.
To become a member of our band, we welcome individuals who:
Are passionate about music and committed to regular rehearsals and performances.
Possess some proficiency on a musical instrument (brass, woodwind, percussion, or strings). Beginners are most welcome.
Some basic understanding of music theory and the ability to read sheet music is important. However, we are very patient and will help you along the way.
Are dedicated to creating an enjoyable musical experience.
We don't require auditions for new members. We welcome prospective members to attend any of our rehearsals to help you assess your musical abilities, sight-reading skills, ensemble playing in relation to our level of playing, choice of music and to meet our current members. We offer friendly encouragement to you and will happily answer any questions you may have.
As a member of our band, you can enjoy:
Opportunities to perform at local concerts, festivals, and community events.
Skill development through rehearsals, workshops with experienced musicians.
Camaraderie and friendship among fellow band members who share your love for music.
Personal growth and artistic expression in a supportive and encouraging environment.
Fees
Our members all pay Band fees, to cover expenses including insurance, rehearsal hall hire, music and professional music director.
Current fees are:
Adult – $280
Concession (Students and Government pensioners) – $140
Rehearsals
Rehearsals are in the hall behind the church at 2 Cutler Parade, North Ryde each Tuesday evening, commencing at 7:30pm and concluding at 9:00pm. Access is via the back gate of the carpark in Cutler Parade, opposite Tobruk St. The carpark address is 8 Cutler Parade North Ryde.
You need to bring your instrument and a music stand.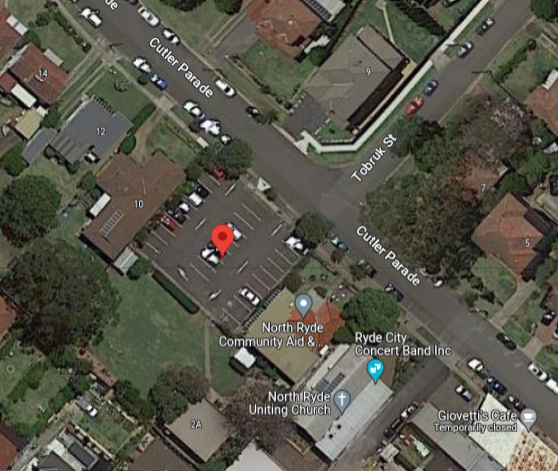 Anyone is welcome to come along, providing you contact a current member of the band, and let them know.
Music
Ryde band has an extensive music library and retains ownership of conductor's score and all relevant parts. Members are issued with parts relating to their instrument and are required to return them when leaving the band. Band members suggestions regarding music to be played are welcomed.
Membership Application Form
Ready to take the next step? We would be thrilled to have you join our band! To express your interest in becoming a member, please fill out the form below. If you just want to ask a question use the Contact form (on the main menu)